FOUNDER FR. HENRI CAFFAREL & THE ORIGINS OF THE MOVEMENT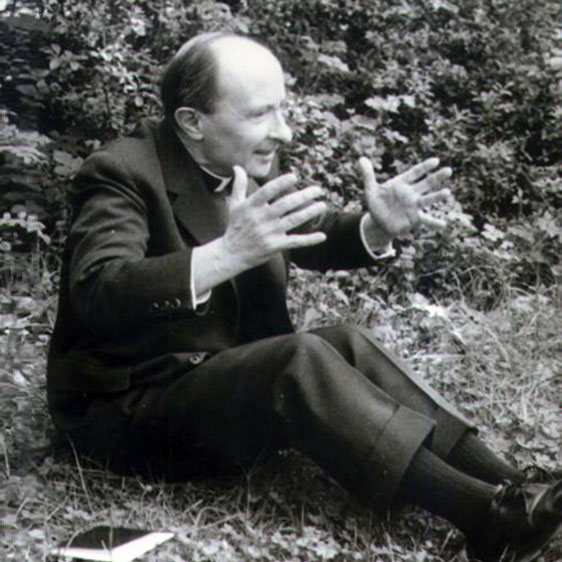 Teams of Our Lady was born of four couples coming to their Parish Priest in Paris, France just prior to WW II.
In 1938, a young married woman, Madeleine d'Heilly, approached Fr. Henri Caffarel to ask him for recommendations on how she and her husband, Gerard, an engineer, both in their 20's, could live the Catholic faith in their marriage. Madeleine and Gerard invited three other couples to join them. These four couples, together with Fr. Henri Caffarel, had their first meeting February 25, 1939 and began the journey which has become The Teams of Our Lady.
Through the years since 1938, Fr. Caffarel did an immense amount of work in assisting couples on their pathway to find Christ. They have found the warmth, support and inspiration of small Christian faith communities and discovered the way of prayer and contemplation in their busy lives.
---
Father Henri Caffarel – Important Dates
| Event | Date |
| --- | --- |
| Born | July 30, 1903 in Lyon, France |
| Baptized | August 2, 1903 in Lyon, France |
| Ordained Priesthood | April 19, 1930 |
| Teams Charter in Rome | December 8, 1947 |
| Approval of the Teams Statutes | March 25, 1960 |
| Fr. Caffarel's Retirement from Teams | June 1973 |
| Decree of Recognition of Teams | April 1992 (Confirmed in 2002) |
| Fr. Henri Caffarel's Death | September 18, 1996 |
THE THREE STAGES OF FR. HENRI CAFFAREL'S MINISTRY TO TEAMS
I.       "The Die Was Cast"
"In March of 1923, an event took place which was to determine with certainty, the direction taken by his whole life: "When I was 20, Jesus Christ, in a flash became Somebody for me. Oh! It was nothing spectacular. On that day in March, now far distant, I knew that I was loved and that I loved, and that henceforth between Him and me, it would be for life. The die was cast".  Everything he would found or organize would develop in the way the Lord would show him.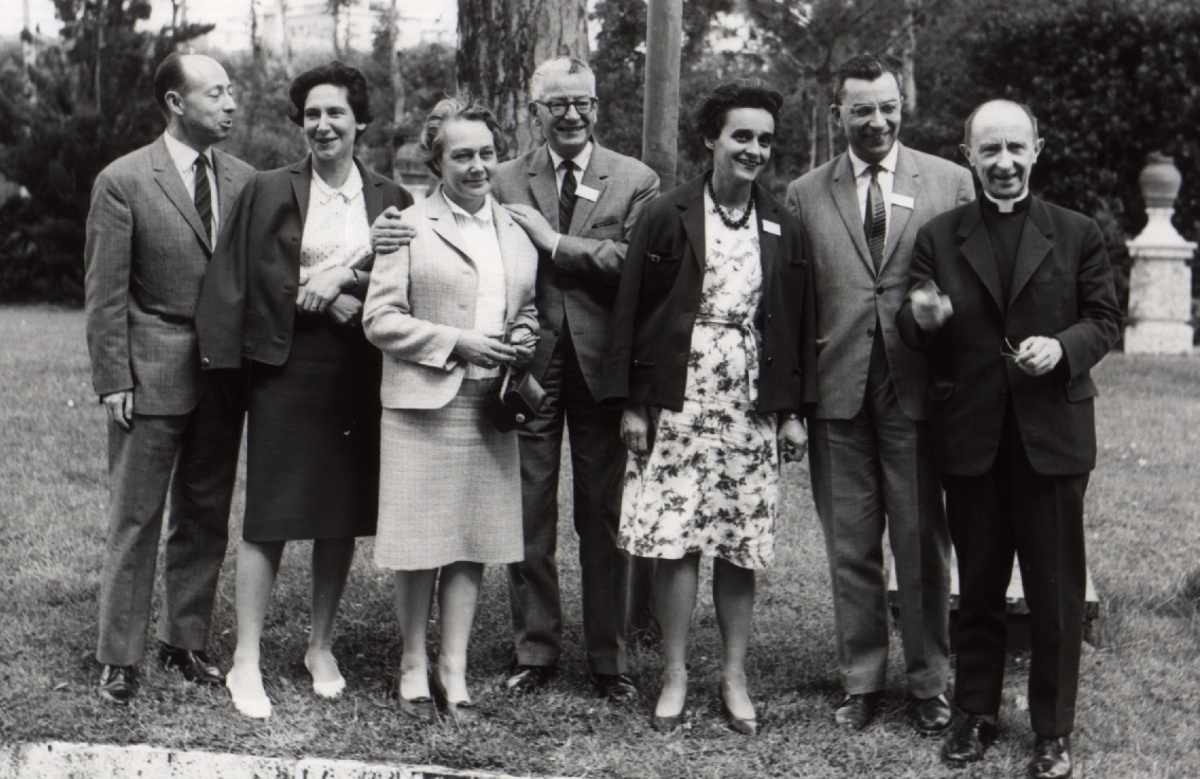 Fr. Caffarel felt in complete harmony with couples seeking the Lord. His own relationship with the Lord was so real, so personal and so dynamic. What he learned from that love relationship with the Divine, rung true also with the patterns of married love: his love for the Lord was exclusive, indissoluble, permanent, stable, fruitful, creative, total and filled with wonderment. Years later, Fr. Caffarel would write: "the first meeting we had (with the first couples), was very joyful, filled with the great gladness they felt in their love for each other and for Christ…..I was surprised to feel so comfortable with them. Then I understood why. For ten to fifteen years I lived a relationship of love with Christ. Listening to those young couples speak about their married love, I realized that they were repeating in their love the same principles that I had discovered in my relationship with Christ. The laws of love are the same everywhere. I was won over and filled with enthusiasm….. They would bring me their concrete lived reality and I would share some of the notions of spirituality that I had discovered."  Given these insights and that God is the author of marriage, it is not surprising that Fr. Caffarel, even though not married, came also to be known as "the prophet of marriage" in the 20th century.
II.      The Movement was founded (1939-1949)
…."In 1939, with the first four couples, something happened that was not just a nice idea; it was something more than simple enthusiasm, it was not just a perchance encounter. Providence and the Holy Spirit were there in some way. Now, I give thanks to God."
He goes on: "Already with the four original couples in 1939, our discussion led to a serious commitment to discover the plan of God for married couples in all the dimensions of their lives….we made a list of all the elements that make up the life of a couple and their family, and we resolved to search what the will of God would be about all of those elements…none of them had difficulty in thinking their vocation was a call to holiness, and that their holiness consisted in developing fully their love for each other and also their love for Christ. This readiness of faith made them capable of understanding the sacrament of marriage in a whole new way. It was not a simple formality, but a prodigious source of Grace through which Christ comes to save love, grown sick since original sin. Yes, He came to bring assistance and enormous graces." 
From that first "Team" formed in 1939, many "teams" were formed in the Archdiocese of Paris. Teams become well known and continued to spread. The movement developed rapidly in France, Belgium and Switzerland and then throughout Europe, South America and North America.
The graces provided by God led Fr. Caffarel to form a charter for the "Teams".
III.       The Charter
A crucial moment in Fr. Caffarel's life was the drafting and putting into effect in 1947, "The Charter of The Teams of Our Lady." It was a very significant move by the leadership of Teams to communicate the essence of the Movement. It was uncompromising. One third of the Teams members abandoned Teams. The means set out in the Charter are demanding. "The endeavors," particularly  "the sit down" are characteristic of the daily life of couples. "Having grasped the spirit of the Teams, you will have no trouble in accepting their discipline," says Fr. Caffarel. A couple living according to the Gospel, such is "the way to holiness." 
The Charter was officially submitted to Rome on December 8, 1947. Approval of the Teams Statutes was given in Paris on March 25, 1960, by His Eminence Maurice Cardinal Feltin, Archbishop of Paris.
In 1992, having carefully studied the draft statutes submitted for approval and received the agreement of His Holiness, John Paul II, the Pontifical Council for the Laity recognizes the Teams of Our Lady as an Association of the Faithful.
Official confirmation by the Holy See of the Decree of Recognition was granted in July of 2002.
THE CAUSE FOR CANONIZATION
 The cause for the canonization of Servant of God, Fr. Henri Caffarel is ongoing and handled through a committee:
"Friends of Fr. Henri Caffarel"; By going to this website, you can enroll in the Friends of Father Caffarel. The cost is 10 Euros per year to assist financially in this process. The 10 Euros makes you a member in the process for the cause for canonization and will also provide you with regular updates.
There are many books written by Fr. Henri Caffarel, but not all are translated from the original French language to English. Some of the English translations are:
 Click to see pdf Marriage Is Holy, edited by Rev. Henri Caffarel, 1957
Click to see pdf   Being present to God "Letters on Prayer",
Rev. Henri Caffarel, 1983
Click to see pdf   Love and Grace in Marriage, Rev. Henri Caffarel, 1960.
Audio versions of these books are available on the US Teams Website [click here]  but it is machine read and so has some odd pronunciation!! (in the opinion of the UK web couple!)